| | |
| --- | --- |
| Product Price: | HKD$57,800.00 |
Product Shipping

Hong Kong : HKD$269.00
Self pickup : HKD$0.00
Ducky17 – the cadet of the model Ducky19.
With this catamaran you will have an excellent time on the beach. Your partner will also find a work to do at the catamaran, as this model already has a front sail, the staysail, and, by client's demand, the model may be completed by an additional sail, the gennaker.
As in case of Ducky19, with this catamaran it is possible to undertake complicated long term cruises in various water areas. But, unlike its senior brother, this catamaran has a rather simplified construction. It makes it lighter and makes the assembly easier to do, which is substantial for the crews of 2 to 3 persons. Assembling and disassembling are realized without tools.
[Not a valid template]
Technical data of Ducky17
Length (m)
5.1
Width (m)
2.4
Diameter of floats (m)
0.54
Jib sail area (sq.m)
2
Main sail area (sq.m)
8
Gennaker sail area (sq.m)
12
Length \ Width of front trampoline (m)
1.6 / 1.9
Length \ Width of main trampoline (m)
1.8 / 1.9
Length \ Width of back trampoline (m)
0.9 / 1.9
Carrying capacity (kg)
350
Weight (kg)
85
Dimensions in packed condition (m):
Pack №1
Pack №2
Pack №3
Pack №4
1.95 х 0.25 х 0.25
1.95 х 0.25 х 0.25
0.8 х 0.55 х 0.35
0.5 х 0.4 х 0.25
Time of Assembly \ Disassembly (min)
70 / 35
Recommended engine power (hp)
3.3
Boat design category (Directives 94/25/EC and 2003/44/EC)
C
Additional options Ducky17
V-SHAPE BOW HULLS $3,890 / pair
Floats with shaped stems have more streamline form that enhances their hydrodynamics. In practice catamaran with such floats has more soft move and better speed as compared with standard floats by reason of the reduction of head resistance. You could feel this advantage especially in the case of windward running against short steep wave. These floats are recommended for achieving more high speed and better results.
GENNAKER $9,580
The gennaker is additional sail for downwind running including crosswind and close reach. When the fresh wind, the catamaran with gennaker can reach planning mode and increase speed significantly. This is recommended for people who are already experienced in sailing and would like to achieve more high speed.
OUTBOARD MOTOR BRACKET $1,890
Outboard bracket is aimed for fixing a motor with prolonged part. The recommended engine output is 2,2 – 3,3 h.p.
TILLER EXTENSION $839
Tiller extension is aimed for steering tiller at a distance. This is useful device for more effective heeling and keeping with accurate trim difference of the catamaran (stern and stem loading).
Bottom hull protection (no picture) $4,190


SIDE POCKETS $1,680
Side pockets are designed for keeping small things, clothes and other. Standard oars can be kept there also. Pockets are made from micro-net fabric and attached to the shroud span on the right and left broadsides. This shape is creating some cockpit which protects from wind and splashes of water additionally.
MAST FLOAT $990
The float on a mast is the inflatable capacity which doesn't allow a catamaran to turn over a mast down. Such float will hold a catamaran in situation "on one side" and will facilitate catamaran restoration to equal Kiel, in case of capsizing. He won't allow a mast to butt in a bottom and will prevent possible damages. The float on a mast has a streamline shape. In case of need, it is easily mounted and dismantled without use of tools.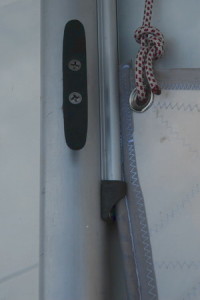 SAIL FEEDER $409
There is useful option that significantly simplifies mainsail fixing. It directs the boltrope into the mast track and eliminates sail sticking when lifting.
NUMBER ON A SAIL $ASK
Number on a sail from a self-adhesive polyester fabric. A standard height of symbol is 300 мм. Cost of single character without gluing is 2 euros, with gluing is 3 euros. Drawing an individual logo is possible.
Additionally, it is possible to install an outboard engine with the power of 3.3 hp on the catamaran. For this purpose, a special transom board fastening to the stern beam is provided.
The frame, mast and connecting units are made of anodized high quality aluminum alloy. Profiled centerboard and rudder of fiberglass reinforced plastic. Sails made of Dimension-Polyant dacron (170 g/m2). All fastening elements are made of stainless steel. Float cases of two sections made out of Valmex, special PVC boat fabric (1000 g/sq.m).
Please follow and like us: